I've been doing a lot of cooking for others lately, and thanks to our crazy weather, I've got plenty of food on hand from cancelled events that needs to be used up.
I will admit that I used to be
terrible
about getting all the leftovers used up before things started going bad or getting stale. I've always felt guilty about it, but guilt alone doesn't fix the problem.
Through trial and error and reading lots of cookbooks, I've come up with a few strategies to get those leftovers used up and out the door.
Read the books.
First off, notice I mentioned
reading
the cookbooks. The recipes are great, but some basic cookbooks have good hints on kitchen stocking and being a good steward of your food resources. The
More-With-Less Cookbook
, which is one of my all-time favorites, is especially helpful in this regard. It's not just packed with good recipes; it's a goldmine of good advice, including advice on how to plan your pantry and use up leftovers.
Think soup and sandwich time!
Also, sandwiches, soups and stews are your friends. If you have a leftover roast, there is probably some way to make it into a tasty sandwich. Roast turkey? Turkey sandwiches with cranberry sauce. Beef? I'm a huge fan of making open-faced sandwiches with mushrooms and cooked onions. Shredding up your beef and mixing it into an easy BBQ sauce makes for a tasty treat as well. And that BBQ trick works on pork, too.
If you have plenty of leftover vegetables, soups and stews can be a good option. For example, I have some leftover pork roast and succotash. I also have tomatoes and fresh rosemary out in the garden and a cabinet full of spices, so guess what kind of stew will be showing up on our table this week?
Try a little stir fry, or a comfort food casserole.
With leftover veggies, stir fries can be a good option as well. If you keep cheese and/or cracker crumbs on hand, it's fairly easy to throw together an imprompu casserole, too. We had a kind neighbor give us
tons
of green beans. I'm going to can some, but it's also a good opportunity for me to simply throw together a green bean casserole tonight. I already have the beans, and I keep cracker crumbs, at least 1 onion and cheese on hand most of the time, so I just need to duck out to grab some mushrooms and I'm ready to go.
Coordinate complementary recipes to minimize leftovers.
So, what about those unusual ingredients you almost never buy? You know what I mean - that recipe you're dying to try that calls for something out of your ordinary such as capers or pancetta. When I have something like that I want to try, I go digging through the cookbooks or I do an ingredient search online and find a second recipe using that ingredient so that I can be sure to get that all used up. I'm actually doing that this week because I wanted to make an old favorite recipe of mine that requires pancetta, so I then found a tasty pasta sauce recipe that also uses it. Voila! Problem solved. And I'll be posting both recipes later this week for anyone who is interested.....
And if you're wondering why you don't see any precise menus on my menu planning post, here's a little more on
my menu planning philosophy
.
And since I'm talking meal planning, I'm linking up here: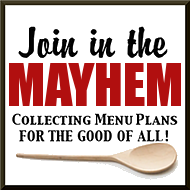 and sharing here, too